Support Innovation and Discovery
Since UC San Diego's founding, the Division of Physical Sciences has played a vital role in driving the innovation and discovery that has led the university to become one of the top research institutions in the world.
With your philanthropic support of the Division of Physical Sciences — which contributes to the Campaign for UC San Diego — we can continue to build a diverse pipeline of student and faculty talent ready to blaze new trails to advance scientific understanding for global good.
Support for our students and faculty underpins our ability to achieve research excellence and educational innovation. Explore our giving priorities below and make a gift today.
Giving Priorities
Inherently interdisciplinary, we usher fundamental discoveries into practical applications in partnership with our colleagues in life sciences and engineering. New named endowed chairs and faculty fellowships create sustained resources for our leading faculty, honoring their vital role on our campus and in the field.
Donor Impact: Tata Hall Brings Sciences Together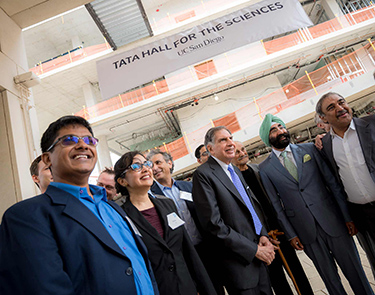 The cutting-edge building for the divisions of Biological and Physical Sciences will bear the name Tata Hall for the Sciences, or Tata Hall, in recognition of a $70 million gift from the Tata Trusts, which was committed to create the binational Tata Institute for Genetics and Society.
The Tata Institute for Genetics and Society, established as a collaborative partnership between the university and research operations in India, will occupy the fifth floor of Tata Hall. The institute's mission is the advancement of global science and technology through socially conscious means to develop solutions to some of the world's most pressing challenges, from public health to agriculture.
"It is my privilege to dedicate this building in recognition of the Tata Trusts' leadership and collaboration with UC San Diego, and the Tata family's pioneering philanthropy and singular impact to bring about societal change," said UC San Diego Chancellor Pradeep K. Khosla. "Tata Hall exemplifies UC San Diego's tradition of non-tradition, inspiring cross-disciplinary collaboration among researchers and the next generation of innovators. This building will embody the spirit of the many shared values of UC San Diego and the Tata Trusts to benefit our global society."
Learn more about the building and how you can give to the project.
The Campaign for UC San Diego: Continue the nontradition
At the University of California San Diego, challenging convention is our most cherished tradition. The Campaign for UC San Diego is a university-wide comprehensive fundraising effort to transform the student experience, our campus, and ultimately the way humanity approaches problems and develops solutions. Learn more at at the official campaign website.
---
Can't find the area that you would like to support? Visit Give Now, or contact us to learn about additional giving opportunities.