Overview
Where Research & Teaching Excellence Begins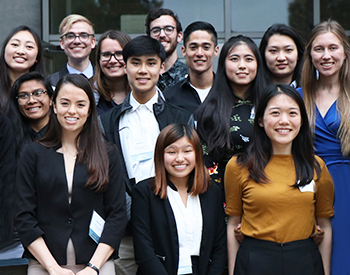 The first students to enroll at the new UC San Diego in 1960 were graduate students in physics. The first professors, whose names mark our historical buildings, included Nobel Prize winners. Today, our graduate programs rank in the top 20 nationally, and all of the university's undergraduate students take our courses as majors, minors or for graduation requirements.
Whether its chemistry, mathematics or physics, we build on UC San Diego's tradition of interdisciplinary research to enable innovative and impactful new research directions—and to attract the most  academically excellent and diverse faculty.
The heart of UC San Diego, the Division of Physical Sciences begins and continues its story of research and teaching excellence with its students and faculty.
Our Student Climate:
Students commonly agree that:
Their differences in age, gender, race, ethnicity and sexual orientation are valued
They are well prepared to complete their degree programs
They are aware of where to get healthcare help on campus if they need it
They would feel comfortable reporting if they experience or witness harassment
Our Graduate Programs:
In our graduate programs:
Leadership is committed to student mentorship and gender equity, diversity and inclusion
Women and men take the same amount of time to graduate
Faculty
More than 170 faculty members • Awards include: Nobel Prize • Fields Medal • Breakthrough Prize • John von Neumann Prize • Simons Investigator • Blavatnik National Laureate • Distinctions include: National Academy of Sciences members • American Academy of Arts and Sciences fellows • AAAS, ACS, AMS, APS fellows and more
History
The UC San Diego Division of Physical Sciences began when Roger Revelle, father of the university, recruited Harold Urey, winner of the 1934 Nobel Prize in Chemistry and professor at the University of Chicago, to teach chemistry at the School of Science and Engineering in 1958—the predecessor to UC San Diego. Urey's presence attracted other key faculty members to the nascent campus, whose first building—Urey Hall—still stands today. Since our founding, Nobel laureates, like Urey and Maria Goeppert Mayer (the second woman in history to win the Nobel Prize in Physics), as well as members of the National Academy of Sciences, have led our Departments of Chemistry and Biochemistry, Mathematics and Physics—all playing a central role in UC San Diego's national and international research and teaching prominence. (Pictured below, left to right: Roger Revelle, Maria Goeppert Mayer, Harold Urey, and Revelle and Urey at the 1964 Farewell to Revelle event. Photos courtesy of UC San Diego Library Digital Collections).