Research Communications Program
UC San Diego's Research Communications program draws on scholarship in the sciences, science communication, science education, the arts and other fields to provide the guiding theoretical perspective and the practical experience that is critical to communicating effectively with a wide range of audiences, including those with questions or concerns about the methods, findings or implications of scientific research.  See our recent paper in the journal Science Communication.
Upcoming Events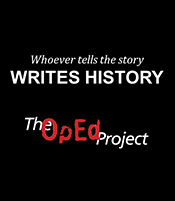 OpEd Project "Write to Change the World"
Tuesday, June 18, 9:30-5pm | Location TBA
 Workshop
On the heels of its well-received, recent "Spark Talk" on campus, The OpEd Project, a New York-based think tank and leadership organization, is returning to present a small group workshop for STEM faculty.  The one-day, thought-leadership workshop is aimed at developing an opinion piece for publication.  Workshop topics include:
Sources of credibility 
When and why people change their minds
How to present ideas quickly and powerfully under pressure
Strategies for greater impact
 The strategies learned in the workshop will help prepare faculty for research advocacy among policymakers, potential donors and other publics. Participants also will learn techniques for making their voices heard in professional settings. Early-career faculty (assistant- and associate-level) are especially encouraged to apply.
Space is very limited.  Faculty only.  To participate, please submit this application.
This workshop is hosted by the Research Communications Program and is supported in part by an Innovation Grant from the Office of the Vice Chancellor for Equity, Diversity, and Inclusion.
Past Events
A joint effort of the Division of Physical Sciences, Division of Biological Sciences and Department of Theatre and Dance, funded by a grant from the Gordon and Betty Moore Foundation.