Tehseen Lazzouni a 2016 Exemplary Staff Employee of the Year Awardee
Tehseen Lazzouni a 2016 Exemplary Staff Employee of the Year Awardee
May 26, 2016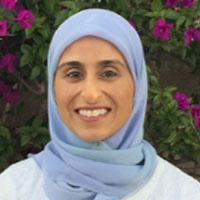 Tehseen Lazzouni, Recharge Analyst in the Chemistry and Biochemistry Business Office, has been selected as a recipient of the 2016 Exemplary Staff Employee of the Year Award. This annual campus award recognizes professional and support staff from across all Vice Chancellor and Health System areas, who have demonstrated exemplary service and made other significant contributions to the UC San Diego and San Diego communities.
Since joining the Department of Chemistry and Biochemistry in 2015, Tehseen has been committed to excellence through her attention to detail, unsurpassed customer service skills, keen problem solving, collaborative spirit, integrity and creativity.  She has gained a mastery of the recharge facility operations despite often dealing with ambiguous information and conflicting priorities.  Her optimistic attitude is infectious and often serves as a catalyst for improved relationships with many stakeholders, both internal and external.
In addition to her work in Chem/Biochem Tehseen is being honored for her previous work with the NASA California Space Grant Consortium.  There she worked creatively and tirelessly to improve the consortium by reaching out to groups to promote diversity in Science, Technology, Engineering and Math (STEM).  Some examples of her work included working with MESA directors at over a dozen state-wide community colleges  to improve their STEM programs.  In an effort to promote gender diversity in STEM at UCSD, Tehseen presented California Space Grant projects and opportunities to the UCSD chapter of the Society of Women Engineers (SWE) and developed two scholarship programs for them.  Together these programs have provided 23 scholarships.
We are extremely fortunate and honored to have Tehseen as a member of our team in the Department of Chemistry and Biochemistry and Division of Physical Sciences!