Kamil Godula Named 2017 Cottrell Scholar
February 24, 2017
By Kim McDonald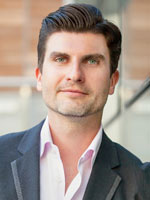 Kamil Godula, an assistant professor of chemistry and biochemistry, has been named a 2017 Cottrell Scholar by the Research Corporation for Science Advancement.
As one of only two dozen early career academic scientists nationwide who received this year's award, Godula and the other recipients will receive $100,000 this year for their research and teaching activities from the Research Corporation for Science Advancement.
Godula, who will use the funds to support his research program, "Harnessing the Mechanobiology of the Glycocalyx to Influence Stem Cell Specification," also recently received a 2017 Sloan Research Fellowshp, a prestigious early-career award given by the Alfred P. Sloan Foundation this year to only 126 researchers from 60 colleges and universities.
He received his Ph.D. from Columbia University and his master's degree from Marquette University.
"The Cottrell Scholar program champions the very best early career teacher-scholars in chemistry, physics and astronomy by providing these significant discretionary awards," said Silvia Ronco, the program's senior director.
Ronco added the program is designed to foster synergy among faculty at major American research universities and primarily undergraduate institutions.
Cottrell Scholars engage in an annual networking event, providing them an opportunity to share insights and expertise through the Cottrell Scholar Collaborative. This year's event will be held in mid-July in Tucson, Ariz., and is expected to draw about 100 top educators from around the U.S.
"Outstanding candidates are admitted to the ranks of Cottrell Scholars through a stringent peer-review process based on their innovative research proposals and education programs," Ronco said.