American Chemical Society Honors Retired Chemist Marjorie Caserio
August 30, 2017
By Cynthia Dillon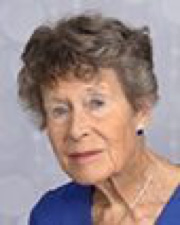 Emeritus professor in the Department of Chemistry & Biochemistry Marjorie Caserio received a fellowship from the American Chemical Society (ACS) in recognition of her distinguished career during a recent ceremony in Washington, D.C.
Over the span of seven decades, Caserio has served as a university chemistry professor and administrator. As an educator, she was considered an excellent teacher of both undergraduate and graduate students and co-authored four textbooks in her field—physical organic chemistry. During the 1960s and 1970s, one of her books, "Basic Principles of Organic Chemistry," was the most widely used undergraduate organic chemistry textbook in the nation.
An early faculty member of UC Irvine's chemistry department, Caserio was presented with the Garvan Medal by the ACS in 1975. The award recognizes women in chemistry for their distinguished scientific accomplishments, leadership and service. Caserio joined UC San Diego in 1990, serving as associate vice chancellor of academic affairs until she announced her retirement in 1994.
A London-born scientist who received her bachelor's degree in chemistry from Chelsea College at the University of London in 1950, Caserio earned her master's and doctorate in organic chemistry form Bryn Mawr College. She spent eight years at Caltech, two as a postdoctoral research fellow and six as a senior research fellow, before joining the University of California.
The American Chemical Society has more than 157,000 members. Caserio was one of 65 scientists honored this year as part of the ACS Fellows Program. The program was created by the ACS Board of Directors in December 2008 to recognize members of the ACS for their outstanding achievements in and contributions to science, the chemistry profession, and the society.