Division Scientists Earn Spots on List of Highly Cited Researchers
Nov. 27, 2018 | By Cynthia Dillon
With a ranking in the top 1% by citations for their field, some scientists may wax philosophical about their skills. Theoretical physicist Massimiliano Di Ventra would not, despite being included by Clarivate Analytics on its 2018 list of Highly Cited Researchers announced Nov. 27.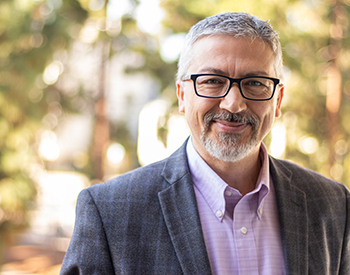 Di Ventra is in good company among faculty colleagues from the Division of Physical Sciences who also earned spots on the highly cited list. They include Seth Cohen and Michael Sailor from the Department of Chemistry and Biochemistry, and Alison Coil and Richard Averitt, who along with Di Ventra, are from the Department of Physics. Given this distinction, the UC San Diego faculty members are considered among an elite list of researchers leading the way in solving the world's biggest challenges. According to the Clarivate Analytics Web of Science, Di Ventra, for example, has been cited more than 12,000 times on several topics ranging from quantum transport in nanoscale systems, to DNA sequencing, to memory effects in materials and systems.
Di Ventra, who goes by "Max," explained that to a certain degree citations measure how much an individual's work has been useful to other researchers in their own studies.
"In other words, they provide a measure of the impact of your work on that of your colleagues," said Di Ventra. "In this respect, I feel both honored and humbled that colleagues worldwide have found my work useful in their own research."
Di Ventra further explained that being named a highly cited researcher is not the result of a single pivotal paper, but, rather, the outcome of several highly cited papers.
"That said, I am particularly fond of one of these papers that I published with a California Louis Stokes Alliance for Minority Participation (CAMP) in Science, Engineering and Mathematics undergraduate student on modeling learning of amoebas. It was really fun to work with a talented undergraduate student, and the paper itself turned out to be a fairly influential one," noted Di Ventra, who asserted that his interactions with colleagues and students is not at all based on the number of times he or they have been cited.
"As I mentioned, I feel honored that my work has been a source of inspiration for other researchers, but this does not change in any way how I relate to my colleagues and students," said Di Ventra, adding that he most enjoys the creative and discovery aspects of research.
"As a theoretical physicist, it is a great source of satisfaction and fun to be able to think about the phenomena that Nature reveals to us," he said. "Being able to describe them mathematically, and predict new ones yet to be discovered; it is very gratifying when these theoretical predictions turn out to be corroborated experimentally."
Expressing surprise to learn of his inclusion on the list of highly cited researchers, Di Ventra had some words of wisdom to share with aspiring scientists.
"Follow your aspirations and don't be afraid to go against the mainstream," he urged, "because science is not a democracy: nature rules."
In addition to the novelty of being included on the prestigious list, Di Ventra also has published a new book titled, "The Scientific Method: Reflections from a Practitioner."
Today, the Division of Physical Sciences' graduate programs in chemistry and biochemistry, mathematics and physics rank among the top 20 in the nation.