UC San Diego Chemistry Student Stands Out to U.S. Dept. of Energy
Alejandra Arroyave selected to conduct thesis research at a national laboratory
May 26, 2020 | By Cynthia Dillon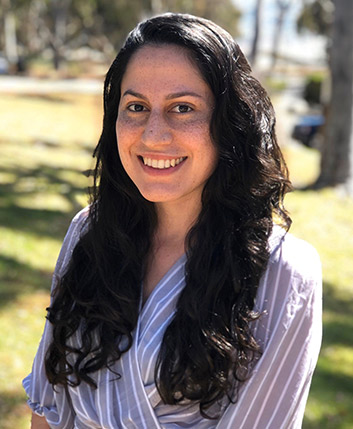 Alejandra Arroyave, NSF Graduate Research Fellow, UC San Diego Department of Chemistry and Biochemistry
One of the first students to receive UC San Diego's University Center for Exemplary Mentoring Fellowship, Alejandra Arroyave is one of the country's few doctoral students to earn support for research at a national lab.
She, along with 61 other students from across the nation, was selected to participate in the U.S. Department of Energy's (DOE) Office of Science Graduate Student Research (SCGSR) program. It provides students with supplemental funds for three to 12 months to conduct part of their thesis research at a host DOE laboratory in collaboration with a DOE laboratory scientist.
Arroyave, who is also an NSF Graduate Research Fellow, will take her research to the Argonne National Laboratory, which emerged from work on the Manhattan Project during the 1940s. Her priority research area is "Catalysis Science with NMR Spectroscopy, Neutron Scattering, and X-ray Absorption Spectroscopy Techniques."
"In the past few years, Alejandra has spearheaded our work on low-valent metal coordination networks," said Department of Chemistry and Biochemistry Professor Joshua Figueroa, who operates the Figueroa Group at UC San Diego. "Her fellowship residence at Argonne National Laboratory will provide our group with invaluable access to X-ray absorption spectroscopy tools to further study these materials and will greatly augment her expertise as she advances to the next stage of her career."
"Science is never really a one-person job, you need information and input from others' expertise, which many have shared with me at UC San Diego." –Alejandra Arroyave
For the aspiring scientist with an inspiring story that means working at the national level, as she prepares for a career as a professor and researcher who shares her passion for chemistry with others. This, after overcoming both financial and personal challenges—including recovering from a stroke.
"I had to relearn how to do many things during my recovery," Arroyave said in a 2015 campus article. "Some were as basic as learning how to use my right hand again and others were relearning how to study chemistry."
She credits faculty members and her peers for their support as she pursued her academic goals.
"Science is never really a one-person job, you need information and input from others' expertise, which many have shared with me at UC San Diego," she said.
Arroyave shared that she feels grateful and excited to receive this award as she works toward a career at a national laboratory like Argonne. "This research will add invaluable information to my thesis by giving me access to specialized instruments that will supplement my work at UC San Diego." 
According to the DOE, research projects like Arroyave's are expected to advance the graduate awardees' overall doctoral research and training while providing access to the expertise, resources and capabilities only available at the DOE laboratories. Graduate students currently pursuing Ph.D. degrees in areas of physics, chemistry, material sciences, biology (non-medical), mathematics, engineering, computer or computational sciences or specific areas of environmental sciences that are aligned with the mission of the Office of Science are eligible to apply to the SCGSR program. 
"These graduate student awards prepare young scientists for STEM careers critically important to the DOE mission and the advancement of American science and technology," said U.S. Secretary of Energy Dan Brouillette. "We are proud of the accomplishments these outstanding awardees have already made and look forward to following their achievements in the years to come. They represent the future leadership and innovation that will allow American science and engineering to excel in the 21st century."
All 62 awardees for this year were selected from a diverse pool of university-based graduate applicants. Selection was based on merit peer review by external scientific experts.
The UC San Diego Department of Chemistry and Biochemistry ranks among the country's top-ranked graduate programs.