Elizabeth Villa Wins Prestigious NIH Grant
October 05, 2016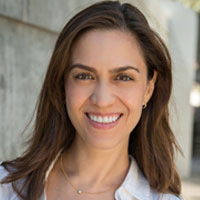 Elizabeth Villa, a biophysicist who is an assistant professor of chemistry and biochemistry, received a $2.325 million New Innovator Award from the National Institutes of Health.
She was one of only 48 researchers nationwide this year to receive the prestigious award, which was established in 2007 and is designed to support unusually innovative research from early career investigators who are within 10 years of their final degree or clinical residency and have not yet received a research project grant or equivalent NIH grant.
Villa, who will use her award for her research project on "Opening Windows into the Cell: Revealing the Molecular Architecture of the Nuclear Periphery," received her Ph.D. in Biophysics from the University of Illinois at Urbana-Champaign working with Klaus Schulten on multiscale simulations of biomolecular complexes, where she worked closely with Joachim Frank developing computational tools for cryo-electron microscopy.
She was a Marie Curie postdoctoral fellow in the lab of Wolfgang Baumeister at the Max Planck Institute of Biochemistry in Munich. Her lab develops tools to observe macromolecular complexes in their natural environment, the cell. Her goal is to transform cryo-electron tomography into a high-resolution technique to unveil the structural dynamics of these complexes that is directly compatible with other biophysics experiments. She combines cell biology and cryo-electron microscopy to generate data, and use computational analysis and physical modeling to understand these data. Her current research is focused on studying the nuclear periphery, one of the most exciting and structurally uncharted territories in the cell.