Jennie Chen in Chemistry & Biochemistry Wins 2017 Exemplary Staff Employee of the Year Award
Jennie Chen in Chemistry & Biochemistry Wins 2017 Exemplary Staff Employee of the Year Award
May 9, 2017
By Kim McDonald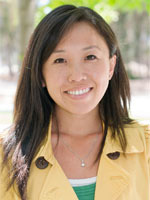 Jennie Chen, a financial analyst in the business office of the Department of Chemistry and Biochemistry, is the recipient of a 2017 Exemplary Staff Employee of the Year Award.
This annual campus award recognizes professional and support staff from across all Vice Chancellor and Health System areas who have demonstrated exemplary service and made other significant contributions to the UC San Diego and San Diego communities.
Since joining the Department of Chemistry and Biochemistry in 2013, Chen has provided exceptional contributions in building relationships, leadership and university practices. She has managed complex financial projects with integrity, excellence and commitment, going above and beyond requirements to ensure her faculty members have the information they need to make decisions affecting their laboratories, staff and students.
"Jennie has been at the forefront of developing and implementing financial best practices in department and has played a key role in simplifying and streamlining business processes," said Steven Ford, Chief Operating Officer for the Department of Chemistry and Biochemistry. "Always thinking about the needs of those around her, she shares her expertise with fund managers in the department, giving them the tools and knowledge they need to succeed."
In addition to her outstanding fund management within the department, Chen serves as a FinancialLink instructor and member of the FinancialLink Advisory Group, where she contributes to the development of university-wide financial applications. In support of the university's public service mission, she also volunteers for the Big Brothers Big Sisters of San Diego County program and The Jacobs & Cushman San Diego Food Bank.