Chancellor's Postdoctoral Scholar Award goes to Chemistry & Biochemistry Fellow
Chancellor's Postdoctoral Scholar Award goes to Chemistry & Biochemistry Fellow
November 28, 2017
By Cynthia Dillon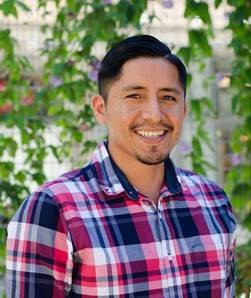 "Brian has a deep knowledge of organic chemistry coupled with passion for making a difference in the world," said Michael Burkart, professor and vice chair in the Department of Chemistry and Biochemistry, and associate director of the California Center for Algae Biotechnology. "He is a team player who has been instrumental in our development of a new investigational drug against blood-borne cancers, for which we hope to complete pre-clinical studies soon," continued the director of the Burkart group, a laboratory which is part of the Biomedical Science Program, Biochemistry & Biophysics, Chemical Biology and Organictracks in the department.
León's research examines a modern approach for therapeutics—the use of natural products and how they are applied in the treatment of disease. He says that many therapeutics have been inspired by natural products, and he wants to understand and develop a family of compounds that address different and often untreatable blood-borne cancers.
"Our research aims at understanding natural product biosynthesis and developing a family of splice modulators (SPLMs) that have unique activity for difficult-to-treat cancers," said León.
The recipient of an Institutional Research and Academic Career Development Award—an NIH/NIGMS-sponsored program designed to provide three years of mentored, post-doctoral research experience in biomedical sciences at UC San Diego— León earned the scholar award with exemplary leadership that includes setting and meeting high standards, behaving professionally and treating others with respect. "All the while being sure to listen to concerns that others may have," added León.
To him, mentorship depends on the student and what his or her interests are long-term. "Depending on this information a different emphasis can be placed on established principles found in the education literature to best suit the individual and their plans."
León also noted that is important to use humor in the laboratory and while teaching. "Students' level of buy-in and engagement is highly predicated on their ability to feel comfortable," he said.
Like many researchers, León is engaged by the challenge of the process of scientific discovery. "It requires a significant amount of resilience and patience," he admitted. "During difficult times with my research I have been sustained by the hope that our work could help 
uncover some fundamental knowledge that could lead to a meaningful impact on patients' disease progression."
His overall career goal is to make a significant impact on biomedically relevant problems using chemistry and biology while training scientists to work collaboratively to answer important questions.
"The key to this will be the identification of interesting biomedical problems and the ability to communicate and write a research plan to develop some form of therapeutic intervention," said León.
UC San Diego Division of Physical Sciences postdoctoral scholars are individuals who have recently completed a doctoral degree and, under the oversight of a faculty mentor, continue research training in preparation for a career in academia, industry, government or the nonprofit sector.