School of Physical Sciences Class of '22 Share Their Stories
June 21, 2022 
The School of Physical Sciences congratulates everyone who graduated this spring. This has been a time marked by uncertainty and anxiety, but these students have prevailed over these circumstances with resiliency and grace.
Below we share a few stories from the graduating class of 2022—favorite memories, challenges overcome, and friends made along the way.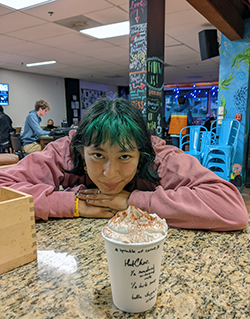 Emily Beckman
B.S. in bioengineering: bioengineering, minor in mathematics
My freshman year, I wandered into FOOSH, UC San Diego's improv troop, with no friends and no activities. I have not left since. This community has had its ups and downs, but ultimately, I found people who were there for me through thick and thin.
I was also a MOMer at M.O.M. Café. I cannot believe how lucky I was to join this community. I appreciate the energy in the group and the eagerness to be authentic from every staff member.
I won a competitive lettuce eating competition with Lettuce Club twice and was the first woman to win. I ate a head of lettuce in 4 minutes 30 seconds. I challenge you to do the same. Stay leafy, UCSD.
I almost failed out over the pandemic due to crippling depression and the stresses of junior year. I barely passed my fall classes and almost took a gap year. It turned around when I found my study group and now friends in the bioengineering department, along with the right medications. They are one of the most supportive and caring groups of people I have had the privilege to be a part of. I only wish I found them sooner.
My mentor, Stephanie Sincomb, just received her Ph.D and has been hugely influential in my time here. I was paired with her in the first week of my freshman year in a mechanical engineering lab on campus. Ever since, Stephanie has been by my side as a friend and a role model. I am so proud to be graduating alongside her.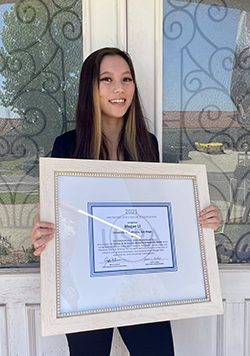 Megan Li
B.S. in physics with specialization in astrophysics
Graduating is a big push for me to explore all the wonderful opportunities the world has to offer. I loved my time here at UC San Diego, and I'll always be a Triton. For the next few years, I'll be working to earn a Ph.D. in planetary science at UCLA. My dissertation will focus on perfecting methods to search for extraterrestrial intelligence! After my Ph.D., I plan to stay at the forefront of the search for life beyond Earth.
While at UC San Diego, I founded Big Sister STEM, a free, virtual mentorship program that pairs early-career women in STEM with young women in middle school and high school. For many of our mentees, we are their first exposure to STEM. Big Sister STEM is by far my greatest accomplishment, and there is nothing that compares to the moments when I get to see a young woman's passion for STEM take root. I'm proud to say that we serve underrepresented minorities, such as low-income and disabled young women.
One of my favorite memories, though, was leading a 50-person lab tour to General Atomics, just north of campus, on foot in the pouring rain. I led this tour as the Outreach Chair of the Society of Physics Students.
I owe all my accomplishments to the guidance and mentorship of Associate Professor Karin Sandstrom from the Center for Astrophysics and Space Sciences. She truly brought me into the world of science and helped me see myself as an academic.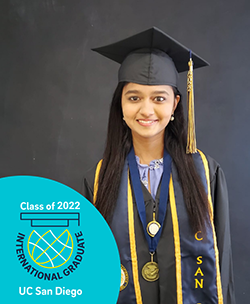 Pamela Nelson
Joint B.Sc. in mathematics and economics
I feel both excited and proud to graduate from UC San Diego—one of the best public research institutions in the U.S. Earning a high-quality education from a beautiful campus overlooking the Pacific Ocean is an opportunity that I'm very grateful for. My college journey was filled with wonderful memories that I will forever cherish.
I've been actively involved in research and a variety of campus organizations including Women and Minorities in Economics (WAMIE) and the Data Science Student Society. My time spent serving on the committees developed my leadership skills and most importantly expanded my network.
One of my favorite memories at UC San Diego was back in my freshman year when I got the chance to represent my home country (Malaysia) during the Passport to Culture event organized by ISPO. It was a good experience sharing my story growing up while also sharing things about my country. ISPO's outreach events broadened my horizons to varying cultural perspectives while also making me feel more connected to the wider community at UC San Diego.
Having a strong support system is crucial as you navigate your life through college. UC San Diego has truly been my home away from home because I had good friends and professors to provide guidance and advice along the way. My advice would be to start networking and cultivating relationships early so that you are more prepared and resilient when challenges arise. Fostering a positive mindset while having a good support system helped me overcome any challenges.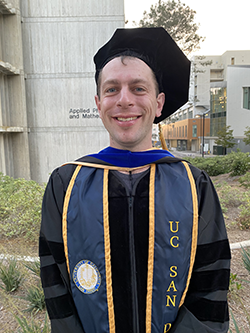 Jason O'Neill
Ph.D. in mathematics
I am extremely excited and honored to have earned a Ph.D. in mathematics at UC San Diego.
In Fall 2022, I will be starting as an Assistant Professor of Mathematics at Cal State University, Los Angeles. I hope to continue contributing to academia by conducting research and showing a dedication to teaching and service to the broader community.
During my time as a Ph.D. student, I volunteered with San Diego Refugee Tutoring, which provides weekly one-on-one tutoring for students from the refugee population in San Diego. I have grown substantially through my experience volunteering there and it is one of my proudest accomplishments during my time here.
One of my favorite moments during my time at UC San Diego is serving as a teaching assistant in an upper-division course and getting to see the students turn in their last final. It is a very meaningful moment for them and a great experience for me to see that emotion.
My Ph.D. advisor, Jacques Verstraete, has taught me a substantial amount of pure mathematics and, perhaps more importantly, how to be a professional mathematician in the other aspects of the job.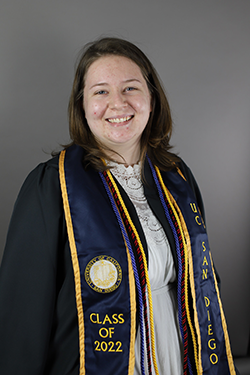 Elanor Sievers
B.S. in chemistry/biochemistry
I have enjoyed my time here, especially doing intense research. I am anticipating finishing a transcript of my first-author research paper before the end of this quarter. These last few weeks are very stressful, but worth it.
I have a job lined up at Singular Genomics (Torrey Pines) where I anticipate working for two years. I plan to start grad school in Fall 2024, pursuing a Ph.D.
My favorite memory at UC San Diego is from when I was a discussion leader for the FYE/TYE (first-year experience) courses. At the end of one quarter (when we were virtual) I did a live poll, asking my students about their favorite campus resource. Most of the students said that I was their favorite resource. I teared up in that moment, as I had found it difficult to teach over Zoom and I felt I was failing them. And yet, my students actually looked forward to my class!
Professor of Chemistry Galia Debelouchina and Ph.D. student Raymond Berkeley have made an incredibly positive impact on my experience. Without them, I would have felt lost and overwhelmed in both research and on campus. This university is incredibly big and can make you feel insignificant at times. That is why it is so crucial to find a mentor to guide you. It makes the experience so much more personal.