Physical Sciences Researchers Earn Prestigious Early Career Awards
June 23, 2022 | By Michelle Franklin
Four researchers from the Departments of Chemistry and Biochemistry, Mathematics, and Physics have received important early career awards from federal funding agencies. Itay Budin and Chunhui Du have received awards from the Department of Energy (DOE), while Alex Frañó and Aaron Pollack have received awards from the National Science Foundation (NSF).
The DOE selected 83 scientists from across the nation to receive funding for research as part of their Office of Science's Early Career Research Program. The program, now in its 30th year, is designed to bolster the nation's scientific workforce by providing support to exceptional researchers during crucial early career years, when many scientists do their most formative work.
The NSF's Faculty Early Career Development (CAREER) Program offers awards in support of early-career faculty who have the potential to serve as academic role models in research and education and to lead advances in the mission of their department or organization. Activities pursued by early-career faculty should build a firm foundation for a lifetime of leadership in integrating education and research.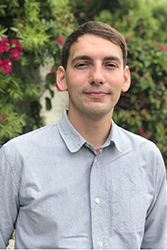 Itay Budin, Assistant Professor of Chemistry and Biochemistry and Bioengineering
Research project: synthetic membrane biology in microbial cell factories
Budin was trained as a biophysicist. His lab investigates the interplay between lipid chemistry and cell membrane function. Before joining UC San Diego, Budin received his Ph.D. from Harvard University and carried out postdoctoral studies as a Miller Fellow at UC Berkeley. He has received early career awards from the National Science Foundation, the American Society for Biochemistry and Molecular Biology, and the Department of Energy.
Budin's research investigates how yeast and bacteria can be engineered to function as cell factories for the production of next-generation biofuels and biochemicals. Like all organisms, microbial cell factories are compartmentalized by membranes composed of lipids and proteins. These structures are only a few nanometers thick yet play critical functions during bioproduction. The goal of this DOE research project is to engineer the structure and properties of cell membranes to improve the performance of industrially relevant microbes.
The project's first objective is to enhance the rate and efficiency of respiratory metabolism by engineering the organization of the electron transport chain. Engineering efforts will define the limits of respiratory metabolism and seek to increase the production of energy-intensive next-generation biofuels.
The second objective is to apply the emerging biochemistry of intracellular lipid trafficking pathways to develop new transporters for the capture of valuable biochemicals produced by the engineered yeasts. The planned research activities will thus harness fundamental membrane biology to develop novel biotechnologies to advance towards the development of renewable energy production systems.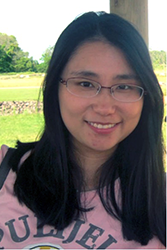 Chunhui Du, Assistant Professor of Physics
Research project: nanoscale quantum sensing and imaging of topological magnets
Chunhui "Rita" received her B.S. in physics from East China Normal University in 2010, and her Ph.D. in physics from the Ohio State University in 2015. She worked as a postdoctoral fellow at Harvard University before joining UC San Diego in March 2019. Du's research focuses on developing state-of-the-art quantum metrology to investigate spin transport and dynamic behaviors in emergent condensed matter systems at the nanoscale.
Du is the recipient of the Department of Energy Early Career Award (2022), National Science Foundation Career Award (2021), Air Force Young Investigator Award (2021), International Union of Pure and Applied Physics Early Career Scientist Prize (2022). She currently holds the Harold and Suzy Ticho Endowed Faculty Fellowship at UC San Diego.
The proposed research will focus on studying magnetic topological materials using state-of-the-art quantum sensing and imaging techniques. It will make important contributions to the burgeoning field of quantum materials and significantly promote the role of magnetic topological materials in development of next-generation, transformative information technologies. By developing cutting-edge quantum sensing techniques and demonstrating their operation under a broad range of experimental conditions, we also propose to provide a versatile nitrogen-vacancy-based quantum microscopy platform, which can be extended naturally to a large family of untapped material systems and benefit the material science community by expediting progress toward future quantum sciences and technologies.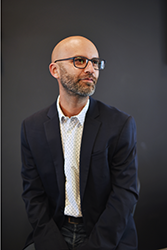 Alex Frañó, Assistant Professor of Physics
Research project: design, control, and understanding of lateral textures in strongly correlated heterostructures
Frañó obtained his B.S. in physics from the National University of Honduras in Tegucigalpa. After pursuing a career in music in Mexico City and other places, he returned to physics, earning his M.Sc at the University of Stuttgart. He did his Ph.D. research with Prof. Bernhard Keimer at the Max Planck Institute for Solid State Research.
He won the Ernst-Eckhard-Koch Prize and the Springer Outstanding Ph.D. Research Prize, and was awarded the University of California Presidential Postdoctoral Fellowship to work at UC Berkeley. Frañó has received the Sloan Research Award (2020), the Cottrell Scholar Award (2021), the NSF CAREER Award (2022), and is a CIFAR Global Azrieli Fellow (2022). He is also the assistant director of Quantum Materials for Energy Efficient Neuromorphic Computing (Q-MEEN-C), a DOE-funded energy frontier research center.
Major research efforts worldwide are exploring a new class of materials governed by more complex quantum mechanical principles, known as quantum materials. The Frañó lab uses newly discovered techniques to modify a material's chemistry and concentration of electrons at the atomic level, which provides control of the electronic properties with exquisite lateral spatial resolution down to the nanometer range. With this knowledge, novel device concepts with far-reaching implications can be developed. Students are trained on materials physics, device concepts, and cutting-edge experimental techniques and analysis within a framework that supports minority students. To broaden the impact of the research, a podcast will be produced that showcases the importance and successes of research on solid state physics.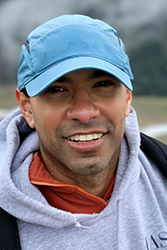 Aaron Pollack, Assistant Professor of Mathematics
Research project: synergistic activities in automorphic forms and education
Pollack received his Ph.D. in mathematics from Princeton University in 2014. He was an NSF postdoctoral research fellow at Stanford from 2014-2017, a member at the Institute for Advanced Study in 2017-2018, and an assistant professor at Duke University from 2017-2020, before joining UC San Diego. Pollack's research is in the arithmetic of automorphic forms, with emphasis on automorphic forms on exceptional groups and the special values of L-functions.
Pollack's CAREER award on "synergistic activities in automorphic forms and education" will support research and training in number theory. More specifically, the award supports:
Research in automorphic forms on exceptional groups, including the development of half-integral weight modular forms on exceptional groups and finding modular forms on the group G_2 with rational Fourier coefficients;
The writing of a graduate textbook on exceptional algebraic structures and applications; and
The training of graduate students.