Student Spotlight: Deena Pederson
September 29, 2023 | By Michelle Franklin
Senior Deena Pederson likes a challenge. As a member of the women's softball team and a math-computer science major, she is always looking for new ways to push herself. Learn more about her lifelong love of sports and problem solving in this Student Spotlight.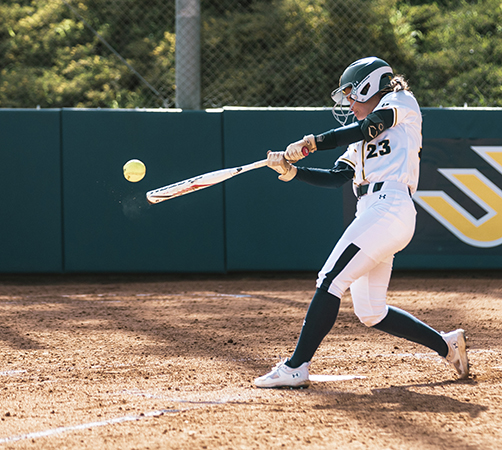 Q: Tell us about yourself.
DP: My name is Deena Pederson and I'm from Sunnyvale, CA. I'm a math-computer science major in Muir College, and I'm graduating next spring.
Q: Why did you choose UC San Diego?
DP: I wanted to go somewhere I could study math and computer science and play softball. A lot of coaches from different universities said I wouldn't be able to have that major if I also wanted to play softball. But at UCSD, my head coach, Patti Gerckens, said I could play softball and study what I wanted to. It all just came together.
On top of that, the location is great — I love the beach.
Q: How are you able to balance academics and softball?
DP: I'm busy, but it's really about time management. I've been fortunate that my coach is pretty understanding of how important my studies are to me. So far, it's been doable. Not easy, but doable.
Q: Do you have any time management tricks or tools?
DP: For me, using time wisely between classes and practice is really important. It can be tempting to rest or hang out between classes, but being able to do my work throughout the day keeps me on track. I try to make a plan in the morning for my classes and practices and when I'll do my work and then I stick with it.
Q: When did you first start playing softball?
DP: I grew up playing a lot of sports, but first started playing tee ball when I was about five years old. I had so much fun; it was a sport where I was just as good as the boys. My parents are both athletic, so they encouraged me to play, and I gravitated to softball because I had a natural ability for it. 
I played throughout high school and just loved it. I played all summer. I played in the fall. I played during the school year. I love the camaraderie. Some of my best friends are from softball. My dad and grandpa also coached me at various points, so softball is a deeply ingrained part of my life.
I started UCSD during COVID, which was really hard. I was terrified of going to school and was nervous about making friends. Living on campus was a special experience because it allowed my softball class to become best friends. Now the softball team is my family. I see them every day. I love hanging out with them. My coaches are great, very supportive. I have so much respect for everyone in the program.
Q: What about the game do you enjoy most?
DP: I'm very competitive, and I love the competitive nature of the sport. I also really enjoy being part of a team — you have their backs and they have yours. Having a built-in sisterhood of strong women athletes is very empowering. Being part of a team and being a strong women — it's a great feeling. This drives me to show younger girls that they can also do the same thing.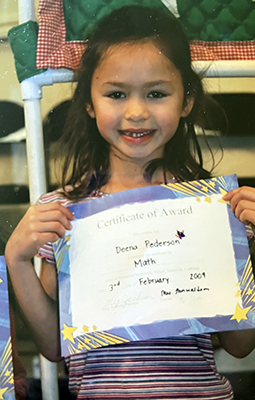 Q: How did you become interested in math and computer science?
DP: I have these two loves: math and computer science. I joined the Math Olympiad program in elementary school and took a lot of advanced math courses in high school. I loved my teachers and that made a huge difference in feeling empowered in a male-dominated field. I loved the satisfaction of learning and understanding math. Being able to figure out a problem or being able to understand a really challenging topic has always been something I really enjoyed.
My dad is a software engineer, and he encouraged me to take an introductory computer science class in high school. I ended up taking three years of computer science because it was so interesting. I also had a great teacher, Mr. Muralt, who was really encouraging, especially since there weren't many females in his class. He told me he could see I had a natural talent for it. That meant a lot to me. 
That was another thing that drew me to UCSD: the joint math-computer science program. I didn't have to decide which to pursue; I was able to do both things I loved.
Q: As you mentioned, this is a very male-dominated field. Do you feel like you've had to overcome obstacles?
DP: I do feel more of a need to prove myself to my peers, and it can be a little isolating. But one thing that's been a pleasant surprise is a lot of the faculty and staff I've worked with have been extremely encouraging and make it a point to hear my voice. It's had its ups and downs, but overall it's something I take pride in.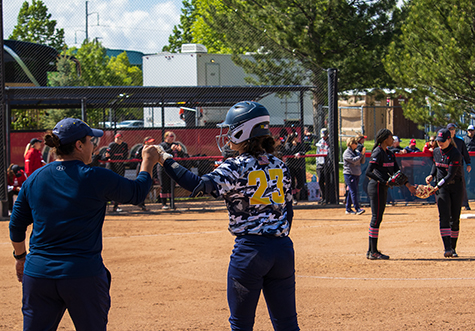 Q: Is there someone at UC San Diego who has been especially impactful?
DP: My coaches Patti Gerckens (head coach) and Christina Byrne (associate head coach, pictured left with Deena) have been great. I also felt like I really connected with one of my math instructors, Aranya Lahiri (visiting assistant math professor). I feel like he saw me as a student and an athlete. He understood my schedule. He was very accommodating with game travel and practice. I felt like he was looking out for me.
Q: What's your favorite spot on campus?
DP: The Ridge Walk Annex — the place that's right above the softball field. The softball team has study hall there a lot, and there are lots of places to eat underneath it. It's my favorite area to get food, study and hang out. It overlooks the softball field and the intramural sports field in one direction, and on the other side you can see the sun set. It's a very peaceful place to study.