Student Spotlight: Payton Evans
April 12, 2023 | By Riley Liu
Payton Evans received her B.S. in Chemistry from UC San Diego and is currently pursuing her master's in Analytical Chemistry. She works in Robert "Skip" Pomeroy's lab and is interested in analytical chemistry, particularly in using instrumentation to analyze and quality check samples. She was recently featured in UC San Diego's brand anthem video. Read more about her interest in chemistry and time at UC San Diego in this Student Spotlight Q&A.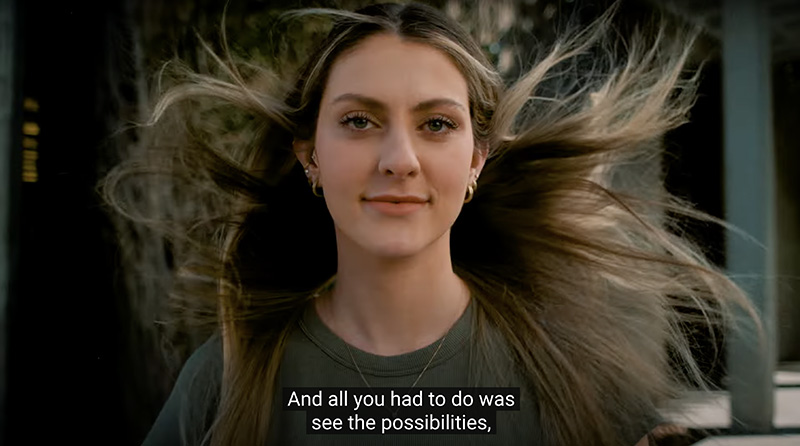 Q: Tell use your name, hometown and major.
PE: My name is Payton Evans. I'm from Palos Verdes, California. I am working on my M.S. in Analytical Chemistry.
Q: Why did you choose UC San Diego?
PE: Originally, I went to Santa Barbara City College for 2.5 years,thinking I wanted to attend UCSB. However,  Santa Barbara is a really small town, and there wasn't a lot to do as a young student. I was ready to move, so I looked at other UCs. I knew I wanted to do science and wanted to go to a research-based school. I liked San Diego and UCSD had a great chemistry and research program. UCSD fit my major and my lifestyle. 
Q: How did you become interested in chemistry?
PE: I was always taught a more advanced chemistry in school and I liked that. In middle school, I had a teacher who taught us out of the high school chemistry book. He moved with us when I went to high school and taught us out of a college book. He was a really good teacher, so I was always interested in class and he made chemistry easier to learn. I was good at it, so when I went to college, that was my major.
Q: What area of chemistry are you interested in?
PE: I'm getting my graduate degree in analytical chemistry, where we use a lot of instrumentation to quality check or analyze samples. My main instrument is an SEM (scanning electron microscope), although there are so many instruments that we use. As an analytical chemist, I'm exposed to all the different types of chemistry–organic, inorganic and physical. With analytical chemistry, you get to see what you've produced and if you've done it right or not. It's like fitting in the last piece of the puzzle.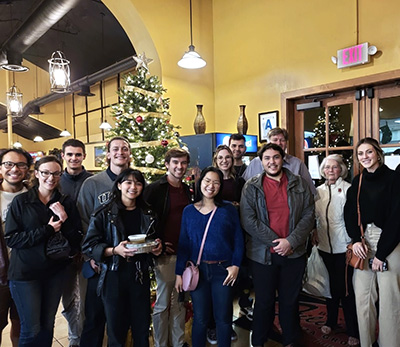 Q: What does a day in Skip Pomeroy's lab look like?
PE: In the nano facility, I prepare samples for the SEM by sticking them on aluminum stubs with carbon tape and coating them with an iridium layer for conductivity. Then, I image the samples, taking about 10 minutes per sample, with 5-10 samples per session. 
Currently, we're studying the biodegradation of algae-based foams, looking for signs of organism growth, crumbling or cracking after weeks in seawater or compost. ​​With Blueview shoes and other upcoming products, we obviously don't want them to break down while you're wearing them, but if it does get tossed into the ocean or dirt, it will eventually decompose instead of just sitting in a landfill forever.
Q: What do you like most about working in Skip's lab?
PE: I get exposed to everything in his lab, which I don't think would happen anywhere else. He gives us a lot of freedom to try new things instead of just following protocol. I've had to become a software engineer. I've had to take apart and rebuild instruments. If something's broken, he likes us to fix it instead of having a technician come out to fix it.
Q: Has anyone at UC San Diego been especially supportive or inspirational?
PE: Jenna Shepherd, my former 100A teaching assistant (TA), recommended me for a position in Skip's lab where I worked under her mentorship for a year. She's now pursuing her Ph.D. in Erik Romero's lab, but she helped me develop lab skills and work on projects, including SEM training. I took over the SEM after she left.
Q: What are your plans after graduate school?
PE: I plan to enter the biotech field in San Diego for quality assurance work, and eventually work my way up to a project manager role. After graduation, I may move to North Carolina to settle down, where there is a thriving biotech hub.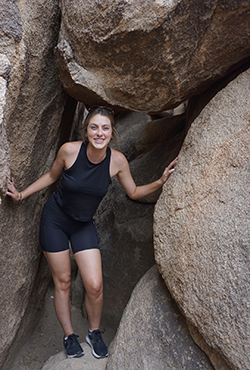 PE: I recently became a TA, which has been keeping me busy along with weekend hikes and workouts. My boyfriend and I are considering playing pickleball since we live near Mission Bay. Maybe that'll be in my future!
Q: What is your favorite memory of UC San Diego?
PE: Due to the pandemic, I did most of my schooling online. I joined the lab after being Skip's student in an online class. Until last year, my time on campus was mainly spent in the lab. However, recently we started having BBQs, going out to dinner, and having parties to socialize with each other outside of work. It's been enjoyable getting to know my labmates better.
Q: What are you reading/watching/listening to right now?
PE: I listen to two podcasts. One is called "The Toast." It's about pop culture and is hosted by two sisters who talk about different topics in pop culture. The other one is called "The Always Sunny Podcast" and it's about the TV show "It's Always Sunny in Philadelphia." They share behind-the-scenes stories and discuss old episodes in an entertaining way.