Appointment of Michael D. Burkart as New Department of Chemistry Chair
Appointment of Michael D. Burkart as New Department of Chemistry Chair
March 10, 2023 | By Michelle Franklin
The School of Physical Sciences is pleased to announce the appointment of Michael D. Burkart as the new chair of the Department of Chemistry and Biochemistry. He joined UC San Diego in 2002 and is currently a professor of Chemistry and Biochemistry.
Over the past two decades, Burkart's research has led to the creation of new technologies to study natural products and develop them for useful applications. Leveraging a combination of chemical, biochemical, and structural biology techniques, his group is uncovering protein-protein interactions that occur between domains of enzymatic complexes. Applications of this work include drug discovery, renewable fuels and biomaterials.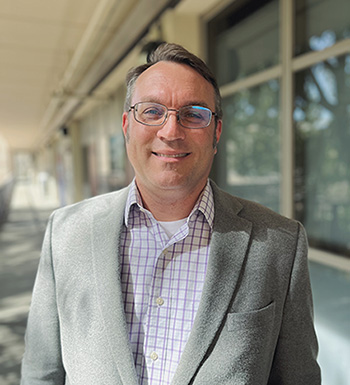 He is co-founder of Algenesis, a material science company that uses technology from his lab to make the world's first high performance, renewable, and fully biodegradable polyurethanes made from algae. He is also co-founder of Aspera Biomedicines, a drug discovery startup developing RNA modulatory and immuno-oncology drugs based on discoveries from his lab.
Burkart earned his B.A. in Chemistry from Rice University and his Ph.D. in Organic Chemistry from The Scripps Research Institute. Before coming to UC San Diego, he was an NIH Postdoctoral Fellow at Harvard Medical School. He has received numerous awards, including an NSF CAREER Award and a Sloan Research Fellowship. He is a fellow of the American Association for the Advancement of Science and the Royal Society of Chemistry, and has received a UC San Diego Chancellor's Award for Excellence in Postdoctoral Scholar Mentoring. He is the co-director of the Chemistry-Biology Interfaces NIH Training Program.
Burkart replaces outgoing chair Vicki Grassian, who is stepping down after three and a half years of dedicated service. Since 2016, Grassian has served in multiple administrative roles in both the School of Physical Sciences and the Department of Chemistry and Biochemistry. As chair, she led numerous efforts that benefited both the department and the School of Physical Sciences, including pandemic response; teaching and research initiatives; and equity, diversity and inclusion. Most notably, she has overseen the hiring of a dozen exciting, new faculty across the department's three sections during her time as chair.
"My deepest appreciation and sincerest admiration to Chair Vicki Grassian for her dedication and service. Chair Grassian has been a strong and effective leader of the department through multiple challenges and numerous successes. It has been an honor to work closely with her over these past few years," said Dean of the School of Physical Sciences Steven Boggs. "I look forward to working with Chair Burkart as he takes over this prestigious and critical role leading the department."