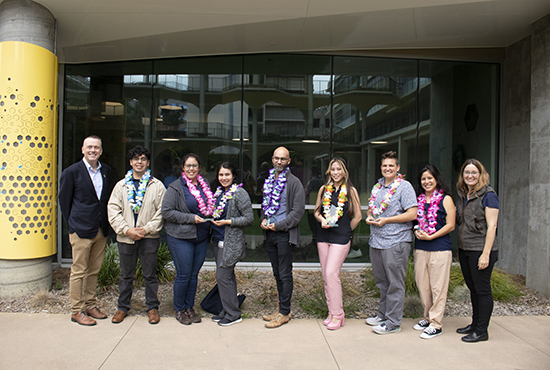 EDI Excellence Awardees Announced
The School of Physical Sciences has announced the recipients of its inaugural EDI Excellence Awards. Congratulations to Alex Frañó, Megan Li, Stephanie Mora Garcia, Jeanette Starpine and SACNAS.
Physical Sciences Equity, Diversity and Inclusion Excellence Awards
The annual Physical Sciences Equity, Diversity and Inclusion (EDI) Excellence Awards honors Physical Sciences students, postdocs, faculty and staff who have generated intentional, sustained, impactful, and/or innovative EDI efforts. Both individuals and groups (e.g., student organizations, committees, departmental staff groups) can receive the Physical Sciences EDI Excellence Award.
Example of Efforts
Efforts can be related to mentoring, advising, community building, teaching, outreach, research activities, hiring/recruitment, department climate, retention, reducing systemic barriers, developing equitable policies — anything that promotes EDI excellence.
Deadline for submission is February 25, 2022
Self nominations and external nominations are accepted: 
Limited to 500 words
Optional: website links, videos, online content and supporting documents (e.g., flyers, promotional materials, documented feedback).
Nominator must provide the name and email address of one additional person who can corroborate the EDI efforts of the nominated person or group.
Submission content
Please provide specific, detailed information about the EDI effort, which may include the demonstrated impact or potential for impact, duration of effort, intentionality, intended audience of the effort, and/or any innovative aspects.
Impact can be demonstrated quantitatively or qualitatively.
EDI efforts should focus on work performed within approximately the last 2 years.
Submission/award timeframe
The nomination submission period is currently open. Deadline for submission is February 25, 2022.
Awards will be announced in April 2022
The Dean of Physical Sciences will announce 2 to 5 awards annually.
Recipients will receive a Physical Sciences EDI Excellence Award plaque and monetary award.
Recipients will be honored at the Physical Sciences EDI Excellence Awards Ceremony.